YMCA CAMP SLOPER CAPITAL CAMPAIGN
Providing for the Next Generation
YMCA Camp Sloper is about to embark on some significant upgrades and improvements! While we have had some very generous donations, we have a little more to do to make these projects a reality! With some challenges associated with our aging pond and the dramatic increase in day camp enrollment in recent years, YMCA Camp Sloper has some much-needed capital improvements to complete to ensure we continue to deliver high-quality programs.
We Need Your Help!
YCS CAPITAL CAMPAIGN OVERVIEW
$4.5 Million worth of capital improvements at YCS is planned: Save Sloper Pond dredging project, new bathrooms and changing rooms, a splash pad, a new pavilion, and infrastructure improvements.

$3 million is coming from the State of CT for the Save Sloper Pond Dredging Project and Waterfront Improvements.
$750k that our YMCA has committed to putting into the projects from our reserves.
$750k we need to raise to complete the projects above.

Of the $750k we need to raise, we have the following:

$280k raised and/or pledged to date.
$155k is planned to come in from special events (portions of FIBJ, Sloper Plunge, and others) and our camp improvement fees over the next four years.
$315k left to fundraise for to get these projects to the finish line.
Our YCS Capital Campaign is now in the public phase, so we are asking any and all supporters to help out if they can! How can I help you ask?
Consider making a donation from your family or business to the YMCA Camp Sloper Capital Campaign by clicking here.

Click here for more info on the YCS Capital Campaign - Case Statement.
Additional information on Save Sloper Pond can by clicking here .
Donations of $1000 or more can be spread out between 2 to 5 years. For more info, contact Mark Pooler at mpooler@sccymca.org.
Naming opportunities and matching gift options are available too!

Attend or put a table together for our Forever In Blue Jeans – Sloper Style Event this fall on November 18, 2022.

Portions of the proceeds are going towards the YCS Capital Campaign.
For more event information or to get tickets, click here!

Help connect us to other individuals or businesses that might be interested in supporting our efforts!
YCS CAPITAL CAMPAIGN PROJECT OBJECTIVES
CHALLENGE #1 - Save Sloper Pond: Like all living things, ponds have a lifecycle, and over the next 50+ years, Sloper Pond will slowly go from pond to swamp to meadow if proper preventative measures are not taken. The pond is the property's centerpiece, and we can not let this happen.
YMCA RESPONSE: Through a well-engineered plan, the YMCA will remove 125k cubic yards of silt and sediment from the bottom of the pond and install preventative measures for future maintenance.
COMMUNITY IMPACT: With these improvements to Sloper Pond, we can be assured this body of water will be here for generations to come to enjoy day camp, swimming, boating, fishing, environmental programs, and so much more.
PROJECT COST: $3.5 million. Our YMCA has received $3 million in funds from the State of Connecticut, leaving $500k in additional funds needed for this project.
CHALLENGE #2 - New Bathrooms & Changing Rooms: We have a significant need to increase our current bathroom facilities to handle our current and future growth. Our camp enrollment has increased dramatically, with over 1,000 kids a day for camp. We are currently working with two bathrooms, one of which is on a 30-year-old septic system.
YMCA RESPONSE: We have plans to build a larger bathroom and changing room facility in the center of the camp and two additional bathrooms off the Camp Office. In addition, we will run sewer lines through the property to eliminate the old septic system.
COMMUNITY IMPACT: These new improvements will be able to accommodate our current and future day camp growth and eliminate the risk of septic system failure. This will allow us to run the quality day camp and outdoor center programming that modern-day families expect.
PROJECT COST: $600k is the estimated cost of the new bathrooms and changing rooms, along with 850+ feet of sewer lines extended onto the property.
CHALLENGE #3 - New Splash Pad & Pavilion: Our dramatic increase in day camp enrollment has led us to need more aquatic program areas and rainy day space to run the quality programs our families have become accustomed to at YMCA Camp Sloper.
YMCA RESPONSE: We plan to construct a 2,200 square-foot Splash Pad next to the new bathrooms and changing rooms and hope to build at least one new pavilion for rainy day space. We also plan to open this up on the weekends for members and the community.
COMMUNITY IMPACT: Building a new Splash Pad aquatic activity area would significantly enhance our day camp offerings and provide another fun weekend activity for families in the community. A new pavilion would add another safe space for kids during inclement weather days.  
PROJECT COST: $400k is the estimated cost of the new Splash Pad and one new pavilion at YMCA Camp Sloper.
EXCITING STUFF IS HAPPENING, AND WE HOPE YOU WILL CONSIDER BEING A PART OF MAKING HISTORY AT YMCA CAMP SLOPER.
THANK YOU IN ADVANCE FOR YOUR CONSIDERATION AND SUPPORT!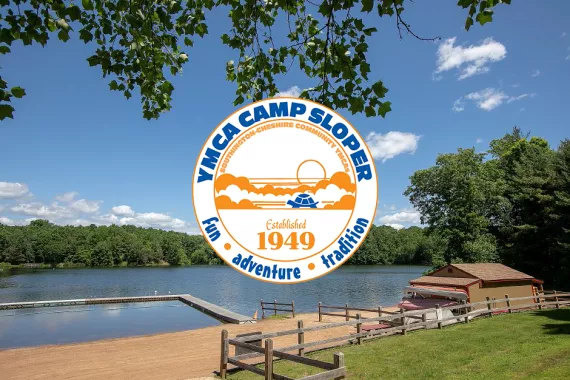 ABOUT THE YMCA CAMP SLOPER OUTDOOR CENTER
The YMCA Camp Sloper Outdoor Center is a program center of the Southington-Cheshire Community YMCAs utilized by members, guests, families, companies, churches, civic organizations, schools, and of course, campers. Our Day Camp stands proud as our flagship program. It serves approximately 4,600 plus campers each summer, allowing them to build self-confidence, develop leadership skills, learn values, be active, make new friends, and appreciate nature and the great outdoors.  
In addition, YMCA Camp Sloper reaches over 10,000 youth, teens, and adults through environmental education, team building, facility rentals, and special events each year. This beautiful facility consists of forests, fields, and streams and the centerpiece of the property is the 19-acre Sloper Pond, used for swimming, boating, fishing, and more. Surrounding the pond are miles of marked trails, carefully placed buildings & pavilions, program areas, and other structures that help us fulfill our mission.
YCS Capital Campaign Naming Opportunities & Pledge Form